Book Review: This is Where it Ends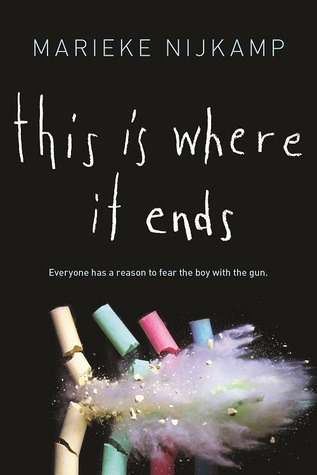 The New York Times Best seller, This is Where it Ends, is a compelling and heartbreaking story of a school shooting, written by Marieke Nijkamp. The story is told from four different perspectives of students who are all linked to the shooter in just 54 minutes. A lot of terror spreads as one student's revenge turns into a game of survival.
Tyler Brown's mother died and his father is an alcoholic, so Tyler has dropped out of school. On the first day of the spring semester, he decided to return back to his high school in his small town of Opportunity, Alabama, but not for the right reasons. His mission is to inflict revenge on anyone who has bullied or offended him in some way.
When everyone at Opportunity High School is gathered in the auditorium for an assembly, Tyler Brown, the gunman, takes this opportunity to lock the auditorium doors. After the assembly is over the students and teachers get up to leave, but they realize that the doors are locked. Then after a few minutes go by, the first shots are heard. The four main characters show many acts of bravery when it comes to trying to help save their fellow teachers and classmates. Unfortunately though, as the story goes on there are many students and teachers that are killed.
This novel gives readers an inside look of what the violence of a school shooting looks like along with different acts of courage from the characters in the novel. Since the story is told from four different perspectives, it helps to sort out the characters and what they are experiencing along with their relationships to one another. The four different perspectives help to really put the book together and makes their stories all connect to really give an insight to readers as to how Tyler goes from a loving brother to a ruthless killer. 
Skylar Shuman is a fan of This is Where it Ends. She enjoyed the suspenseful story of the school shooting and she said that she just could not put the book down. Since the story is told in just 54 minutes, she said that she wanted to keep on reading to find out what was going to happen next. She also liked the courageous acts of the characters when it came to trying to save their classmates and teachers. She said, "This book really opened my eyes to school shootings and how scary they can be, after reading this book, it now makes me realize that school shootings can happen anywhere and I need to be more aware of that."
This is Where it Ends gives readers an eye opening experience to school shootings. It helps them to better understand the dangers of school violence and how people are affected. If anyone is interested in reading this novel, they should because it is a remarkable read and it really makes people think when it comes to school violence.
For more information visit: https://www.commonsensemedia.org/book-reviews/this-is-where-it-ends and http://www.washingtonindependentreviewofbooks.com/index.php/bookreview/this-is-where-it-ends