Twenty-One Pilots releases new album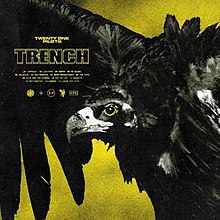 Archer Thomas - 9, Pinnacle Student Life
November 9, 2018
Hang on for a minute...we're trying to find some more stories you might like.
Archer Thomas – 9
    The fifth album Trench by Twenty One Pilots was released on October 5, 2018. This is the band's first new album in three years, and it consists of 14 tracks all of which loosely revolve around the concept of escaping a prison by the name of DEMA, which many have theorized is a metaphor for mental health. They have released four singles along with videos for them.
    The band said that they were working on songs for the album back in 2015 while on a two tour for their last album. They announced that they would be taking a small break, for a little over a year, and are back to creating, touring, and releasing music.
    When the band came back in the summer of 2018 they released two singles off of Trench. The first one being Jumpsuit and the second being Nico and the Niners. About a month later they released the third single titled Levitate. Then in the beginning of September they released the fourth named My Blood.
    The album is reminiscent of their first three albums Twenty One Pilots, Regional at Best, and Vessel. When listening to the songs it feels like you are listening to their older albums. The lyrics in Jumpsuit have the theme of being protected by the people around you and by what you do, "If you need anyone, I'll be right there". The lyrics in Nico and the NIners revolve around escaping the facility known as DEMA and that the people running it do not control you, "DEMA don't control us". In the song Levitate the singer talks about flying or levitating away from fears and insecurities with the help of people close to you, "You can learn to levitate with just a little help". The last single is My Blood which the singer has said is about his older brother, the song talks about staying with people during their times of struggle to help them fight it, "Stay with me, my blood you don't need to run"
    You can listening to Trench wherever you stream music. You can buy a physical copy wherever they sell CD's or you can order one at https://store.twentyonepilots.com/.