Meredith Haas expands her Spanish knowledge with Mrs. Reppert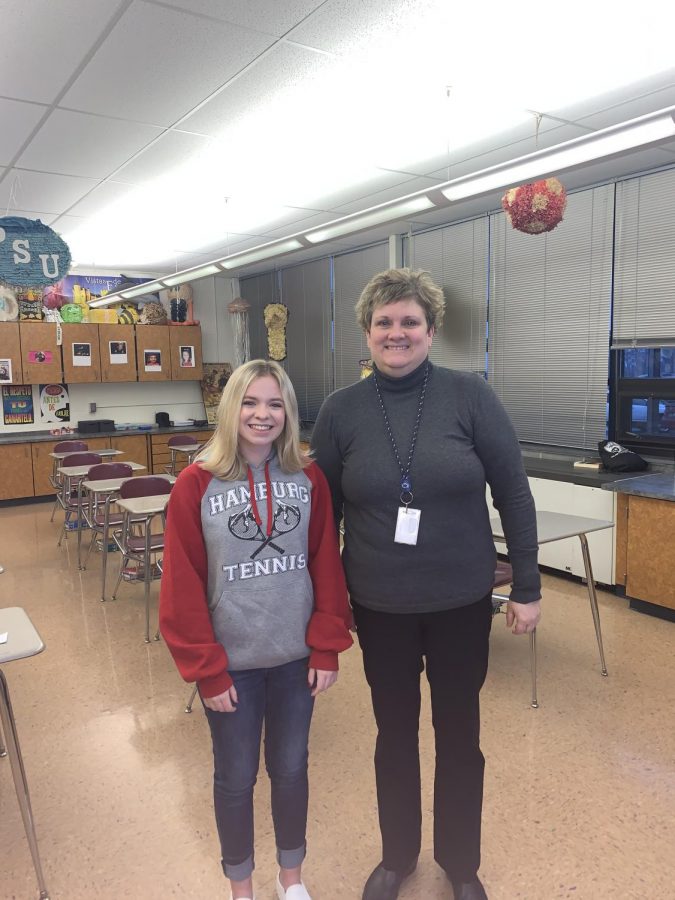 Meredith Haas, a senior at Hamburg Area High School, is currently taking an internship with Mrs. Reppert, the Spanish teacher at HAHS. Haas got started with this internship this year because she wished to take Spanish IV, but no one else did, so she and Mrs. Reppert came up with this idea. With Mrs. Reppert, Haas "acts as a student aid in a Spanish 2 class."
As a student aid, she grades papers, teaches lessons, and even creates fun games for them to learn and enjoy. Haas believes that "the easiest thing to do is grading quizzes because it is fairly systematic. The hardest thing to do is to come up with games for the students to play that will help them learn the concept, but also that is fun for them to play."
Although she is working with Mrs. Reppert in a Spanish classroom, Haas wishes to be a lawyer or obtain a job in a government agency in her future. Ideally, she wants to "work for the Environmental Protection Agency (EPA) so that I can focus on both the environment and the policies that surround it." For someone that has always been interested in politics and policymaking, it would be a great fit.
While Spanish class may not affect a future in policy/law-making, Haas knows it to be "very beneficial to have a second language when looking for a job; it makes you more marketable." Working students must also help with the communication skills needed as well.
Meredith Haas will excel in politics with her skill of bilingualism and has a bright future ahead of her.