Air Forces make a huge comeback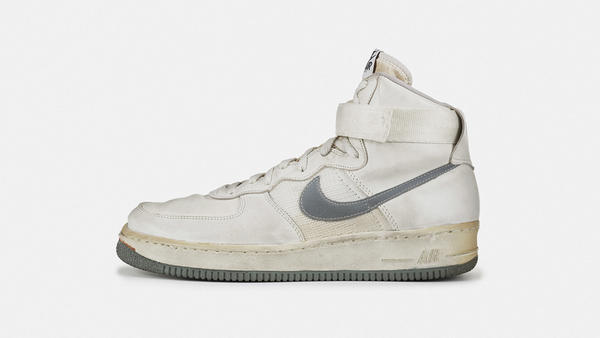 Produced in 1982, Nike released their biggest selling shoe ever, the Air Force 1's. These shoes were the first-ever basketball made shoes and were bought by NBA basketball players like Moses Malone, Michael Cooper, Bobby Jones, Calvin Natt, Mychal Thompson, and Jamal Wilkes. 
The designer of the Air Force 1's, Bruce Kilgore, designed these shoes to be different from any other at the time. He thought of a circular outsole pattern that allowed basketball players to have a better pivot, and this made Air Forces top the charts for the best hoop shoes. 
Then in 1984, Nike discontinued Air Force 1's for an unknown reason. Thousands of people were demanding them back from distributors and asking about different colors and customized shoes. Once the distributors were tired of the pressure, they began reaching out to Nike about the high demand from buyers. This caused Nike to possibly reconsider their discontinuation. 
After careful thought, Nike re-released Air Force 1's in 1986 and they were selling off the charts. These shoes are known to be one of the most iconic shoes of all time. 
When Air Forces were originally released, they were priced at approximately $85 which was expensive for the time. Now, the price can vary from $60 to $150. The price now depends on the different patterns, colors, and structures of the Air Forces. 
The design of the AF1's has changed throughout time because of the different colors, hightops, and low tops. They are consistently a leather material and a squishy sole to make the buyer's foot comfortable. Due to the comfort and the proper advertising by celebrities, these shoes have moved to the top of the charts. 
Today there are more than 2,000 different versions being made and processed every day. From when they were released the second time to now, millions to billions of AF1's have been sold around the United States alone. In the year 2020, these are on extremely high demand and are still making an outstanding profit, and they are being worn by adults, teenagers, and kids. 
The AF1's have moved away from being specifically for basketball practice of games and have become trendy leisurewear by many people. 
"Wearing the Air Force 1's made me feel like I'm Gucci Mane in 2006," said Sophia Harakel, 9. Wearing the AF1's can easily make anyone feel trendy. 
These shoes have been through many ears and many different designs. While some people may consider them old, they seem to be a brand new fashion statement to the new generations. 
For more information, visit https://www.sneakerfiles.com/nike-air-force-one/, https://www.nytimes.com/2007/12/23/sports/23shoe.html, and https://www.kickz.com/blog/2015/05/27/history-of-the-nike-air-force-1/amp/.