Book Review: Saint Anything – Sarah Dessen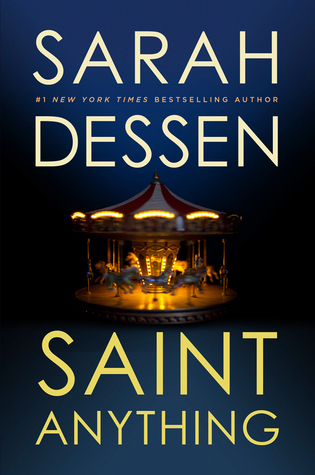 Saint Anything is the twelfth novel written by acclaimed young adult author Sarah Dessen. It follows the story of a girl named Sydney Stanford, who has always lived in her older brother Peyton's shadow. After her brother gets in a drunk driving accident that leaves a 15-year-old boy severely injured, Sydney's parents worry more about her brother rather than the victim like she does. After she transfers to a new school, one where she would not be seen purely as "Peyton Stanford's sister," she meets the Chatham family. She quickly forms a bond with the family and finally feels seen for the first time when she meets Mac. Like many of Sarah Dessen's other novels, Saint Anything explores the topics of change, family, and self-discovery, as well as some heavier ones. 
Saint Anything is a well-written novel, with rounded out characters that readers love, such as Sydney and Mac, and some that they hate, like Ames, a family friend of the Stanfords. The story takes readers through how Sydney processes everything that happened with her brother, and how her family is more focused on him. It also follows Sydney's bond with the Chatham family and how they almost become a second family to her. All the relationships __ romantic and platonic __ are written well and are believable of relationships in real life. Saint Anything is a great choice for anyone who is a fan of young adult literature and romance novels everywhere. 
For more information about Sarah Dessen, Saint Anything, or any of Dessen's other novels, visit her website, sarahdessen.com. Options to buy this book or any of her others are available on the website as well.