A great person, an even greater musician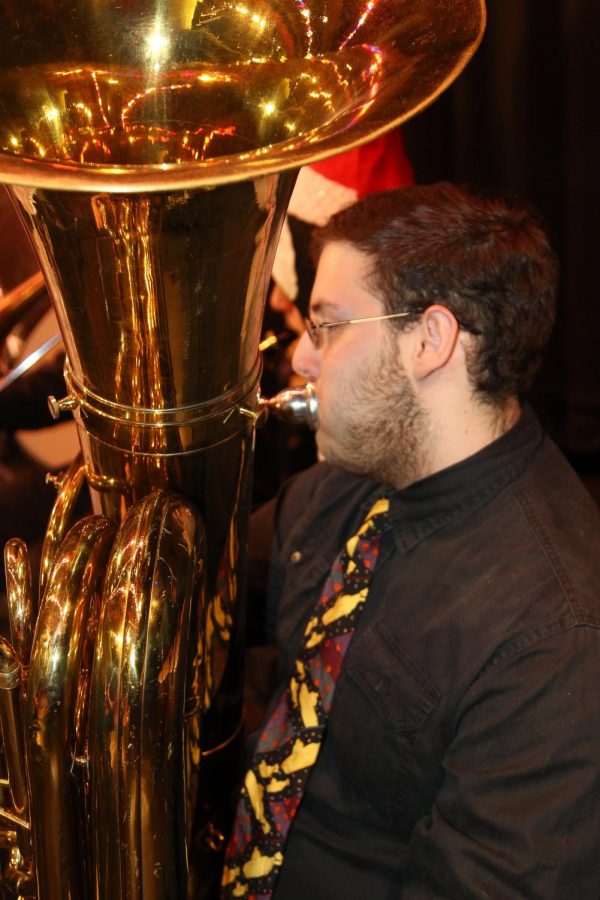 Harley Ludy, a senior here at Hamburg, has made a lasting impact in the school's music legacy. Having gained an interest in music in seventh grade, Harley has come to play many instruments, including the string bass in third grade, the tuba, and singing in tenor in choir. He also added that he dabbles in many other instruments as well. He stated that he has been able to achieve many of his goals in music, and has had many amazing opportunities, including conducting the pit orchestra, going to district orchestra, and regional choir. Harley has also participated in many of the high school's musicals, and was the pit conductor for the latest one, Hello Dolly. For many of Hamburg's music concerts Harley has always been apart of the ensemble, and has even been able to direct the ensemble for the chambers concert. He said he has gained lots of musical experience and helped him become versatile in the music industry.
Harley explained that his favorite part about music in school is that all the musicians within the school have the ability to unite their talent with their passion and have fun with it. He said that many kinds find a home in music and they have the ability to come to school and immerse themselves in it fully within the music wing. He also explained that his favorite part about music in general is the fact that music brings everyone together. Harley also said that he doesn't have a favorite type of music and that he listens to whatever catches his ear. His favorite genre though, is barbershop.
Harley said that his plans for after high school include going to college to become a music educator, not mattering what he teaches as long as he is teaching. He hopes to make an impact whether it be in choir, band, or orchestra. He said his time at Hamburg has been very insightful and that he has learned so much. He explained that he has so much fun playing and creating music, and it has been a wonderful journey for him.
Two of Harley's major inspirations are Jim Henson and Joel Hodgson. He explained how both of their ideologies have helped him a lot. They were both creators and inspired Harley to march to the beat of his own drum. Someone who personally inspired him, was Dr. Ryan, who gave him the reasoning to dedicate his life to music.
"
It's the universal language!"
— Harley Ludy
Harley had some advice for aspiring musicians, "If you wish to get involved in music, please do! Just do it! You have to find the right pick for you. However, it's something you can do the rest of your life and even if it's not professionally, it's a great hobby that can unite us all! It's the universal language!"