Book Review: The Secret Life of Bees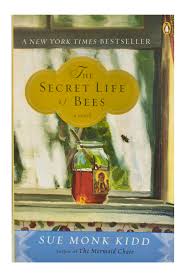 The Secret Life of Bees does not present what the reader may initially expect from the title. The novel focuses on the life of Lily Owens, a 14-year-old white girl from Sylvan, South Carolina, who spends most of her time reading and writing, secluded from the other girls in her town. Her mother died when she was young, and Lily spends her days missing her greatly, searching for more answers about her mother's life, while her father, who she calls T-Ray, frequently verbally abuses her and occasionally forces her to tolerate odd punishments. The only support Lily finds in her life is Rosaleen, their black maid that has taken on the role of being Lily's maternal guardian.
Taking place during the Civil Rights Movement, it is unsurprising that Rosaleen runs into trouble with white men in the Bible Belt, leading to Lily deciding to run away from home and sneak Rosaleen out of the hospital she had been admitted to. They journey to Tiburon, South Carolina, where they meet three black sisters: June, August, and May. They find a home with them, and Lily, despite already being more accepting of other races that the rest of South Carolina, learns that these women are not so different from her, and she begins to break loose from the bias instilled in her. The book demonstrates an incredible bond between women, regardless of race, and shows the dissolving of racial tensions through understanding and love.
Sue Monk Kidd wrote the novel and published it in 2001. As someone who resides in Sylvester, Georgia, and was born in 1948, she likely has a greater understanding of the perspective of a white individual during the Civil Rights Movement. In addition to her life experiences, she also spent numerous hours with beekeepers, learning more about the lives and work of bees. In her novel, Lily's feelings about bees are synonymous with the feelings Kidd experienced when working with bees. Kidd feels that working at a honey house and at the hives was a magical experience and was ecstatic to be able to include it in her book. Despite her excellent descriptions, Kidd insists, "Some of those scenes where Lily is experiencing that rush of feeling and emotion when the bees come swirling out of their hives, I could never have gotten that from a book."
For more information about Sue Monk Kidd and The Secret Life of Bees, visit https://bookpage.com/interviews/8506-sue-monk-kidd-fiction#.XkLD1GhKjIU.