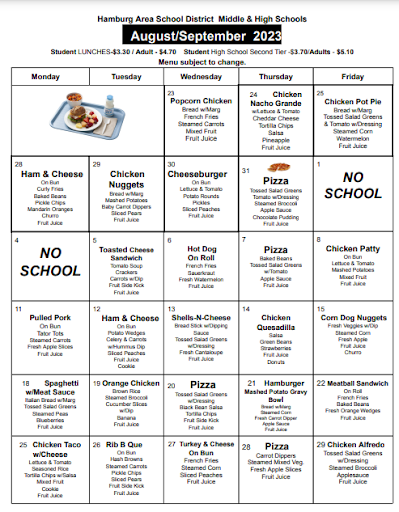 All over the US, students have discussions about school lunch. A few students have suggestions on how to improve the menu and would like to see their favorite foods show up more recently on the menu, such as shells and cheese, chicken nuggets, and the Thanksgiving stuffing.
     While comparing some school's menus to ours, the foods Hamburg students like are popping up recently. In September, for example, Schuylkill Valley repeatedly had chicken patties, macaroni and cheese with a breadstick, and hamburger on the menu. Another example is that Fleetwood has a bunch of chicken options throughout the month, such as chicken patty, chicken nuggets, popcorn chicken, chicken parm, and chicken tenders.
     Many students would like to see our lunch menu change to more chicken, while others do not. Roughly half of the students like how the menu is and like the diversity. A student even said that having the same foods over and over would be boring. Hearing both sides of the change could be solved by taking off some of the students least favorite foods, and replacing them with foods they would prefer. Then there is not repetition but also a more enjoyable menu.