"Wonka 2023" movie review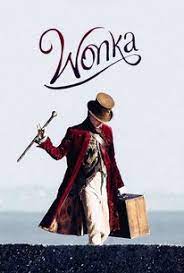 The classic Willy Wonka movies have been known for quite a few years after first being featured as a novel written by Roald Dahl in 1964. The story is about a chocolatier, Willy Wonka and a poor boy, Charlie, who wins a golden ticket to take a tour of Mr. Wonka's mysterious and magical chocolate factory. Each golden ticket is wrapped in one of the famous Wonka chocolate bars. In the evolution of some of the movies, five children are lucky enough to take a tour of the factory.
    There were a few movies made about Willy Wonka, the first being Willy Wonka and the Chocolate Factory produced by Mel Stuart in 1971 starring Gene Wilder as Willy Wonka. The second movie made was Charlie and the Chocolate Factory made in 2005 produced by Tim Burton and Wonka played by Johnny Depp. When watching this film from 2005, Depp cannot be visually identified which is crazy since he appears to look super young and does not look like himself. The final movie that is being made in the process is Wonka 2023  directed by Paul King who also directed the Paddington Bear movies, and starring as Willy Wonka is Timothée Chalamet.
      What is different and unique about Wonka 2023 is that it will not be just a movie, it will be a prequel which means basically the filmmakers will still have the same plot of the chocolate factory and the characters but they will be changing the events of the movie so it does not seem like it is a direct comparison to the last two movies. Making the movie different and not the same will be a more appealing thing to watch.
     For more information go to: insider.com/willy-wonka-star-timothe-chalamet-prequel-will-avoid-comparison-2021-7

Or go to: https://www.imdb.com/title/tt6166392/