TV show review: The Queen's Gambit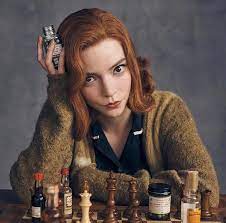 The show The Queen's Gambit is a show that is full of drama and focuses on the life of a girl, Beth, who was orphaned at a young age because of a car crash and is forced to live in an adoption center. It follows her as she grows up and realizes that she is incredible at chess. She learns to play with a janitor at the adoption center and becomes amazing, even at the national level. 
    The main character Beth is played by actress Anya Taylor-Joy. Who has played many other roles, in The Menu, Emma, Amsterdam, The Witch and Glass. The Queen's Gambit was based off of a book written by Walter Tevis in 1983 with the same name as the show. 
    I personally really enjoyed the show. It was interesting to me to watch something about a topic, chess, that I would have never imagined to be the subject of a show. The movie and the main character were very inspiring and it was full of plot twists. I would recommend this show to older teenagers or adults. I enjoyed it, but it did on occasion get boring, maybe too boring for young teenagers to enjoy. I would also reccomend it for anyone who enjoys chess. The show goes in depth into the world of chess and talks about special moves and all the rules of chess. The movie is not just about chess, as Beth encounters many personal dilemmas throughout her journey of becoming the Grandmaster; the world's greatest chess player. 
    To watch The Queen's Gambit, visit https://netflix.com.