Student Spotlight: Abigail Behm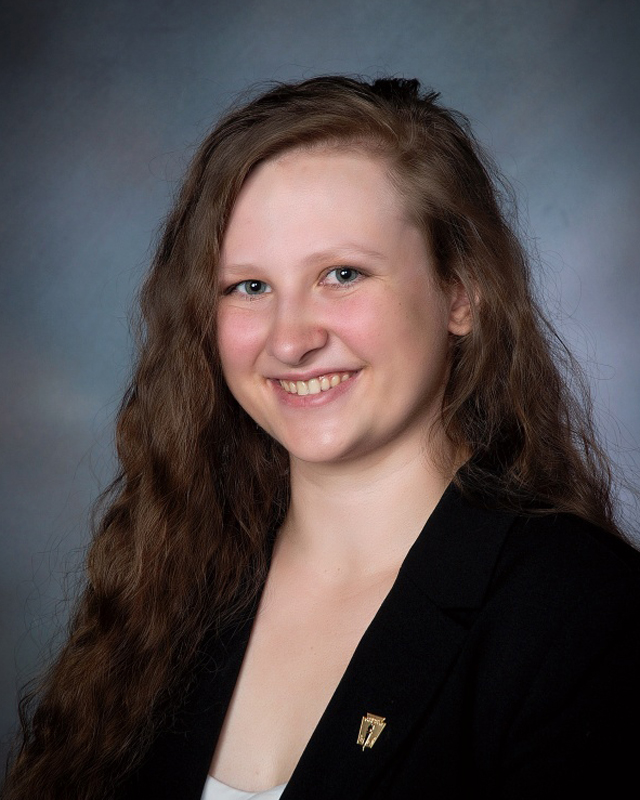 Quinn Holl, Hawk Happenings Editor in Chief
February 21, 2020
Senior, Abigail Behm, is both a dedicated and highly involved student at Hamburg Area High School.  
Behm is an active member of Mu-Alpha Theta, National Honor Society, Drama Club, and she is president of German Club. However, most importantly, Behm is president of Hamburg's Hawk History Seminars, where students are provided the opportunity to learn information that is not normally covered in most history classes offered at Hamburg. Behm's position as president is certainly a unique one, as she is the first student, ever, to hold such a position. Her job primarily consists of brainstorming topics and setting up guest speakers. Additionally, in the near future, Behm will be leading her own seminar, where she will enlighten students about the top four national intelligence agencies — CIA, MI6, Mossad, and SVR RF. 
Behm, who attended nearly every seminar last year, is truly grateful for Mr. Kline's brilliant idea to hold seminars almost every week. 
"His [Mr. Kline] passion is contagious. He wanted to make use of an 8th period to get together kids who just want to learn… It's amazing to see so many kids using what could be their free time to learn something new."  
Aside from Behm's prominent role in the Hawk History Seminars, she has also been an assistant stage manager for Hamburg's theater productions for the past two years. Behm's duty is ropes, meaning she is the individual providing back-drops for scenes; however, Behm also makes lists, organizes scenes, and works with the director to determine where props are placed. 
"I love backstage, and I love the logistics of making things fit together… Nothing beats the thrill of having a show that you've worked on for months go off perfect… I like to think of stage crew as the roots of the tree. The actors are the branches."  
However, Behm will be adopting her first theater role in this year's spring play, Romey O'Del and Julietta May, where she will be playing Celsterine Coymack, a crabby, stubborn grandmother of the Coymack family. Behm, who was a dancer for nine years, primarily in ballet,  decided to audition for the role because it is her senior year, meaning it was her last opportunity to try something new. 
"I have stage experience as a ballerina, but I haven't been on stage for years. My dad said — 'Try it. Get some experience on the other side of the curtain' — so I tried it because I don't want to live with any regrets, ever."  
Nevertheless, aside from Behm's love of theater, her future aspirations rest in becoming a foreign ambassador. She plans on attending Ursinus or Dickinson College in the fall, where she will double major in German and Pre-law. Behm has her eye on Ursinus, specifically, due to the appeal of the campus, the connections, as well as the intercultural experience. Following law school, Behm plans to start off at the NSA, where she would like to transfer to the state department to become a foreign ambassador. During her years of schooling, Behm would like to learn Russian, Chinese, and Arabic to become a translator for multiple nations.   
When Behm is allotted free time, she enjoys singing, swimming, reading, playing the piano, hunting, swing dancing, and hand-and-hand combat. Behm takes self-defense courses in Reading with a former police officer who worked with her dad. 
"He's very good at what he does, but a lot of it is just running through the motions. It's a lot of muscle memory."   
To cap off a brief summary of Behm's life, her dad, a police officer for Lucerne Township, is her role model.  
"My dad has, by example, instilled this sense of right and wrong with the help of my own moral compass. He showed me that there are ways you can make a difference and help someone. And if you can help someone, you should — every single time. He works crazy hours and has to deal with, sometimes, horrible people in the name of keeping people safe and putting food on the table for his family. That's why I want to join the NSA. As an ambassador, I can bridge the gap between human beings because I want to help as many people as I can, just like my dad helps as many people as he can."