Donine Kelly named the 2019 Pennsylvania High School Physical Education Teacher of the Year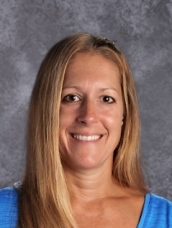 Quinn Holl , Hawk Happenings Editor in Chief
December 19, 2019
Donine Kelly, a Wellness teacher at Hamburg Area High School, was recently named the 2019 Pennsylvania High School Physical Education Teacher of the Year by the PA State Association for Health, Physical Education, Recreation, and Dance (PSAHPERD). Kelly's admirable dedication to the Wellness program as well as her creation of Wellness Day, a day where seniors visit Leaser Lake for half of a regular school day to participate in a variety of activities, such as kayaking, hiking, and yoga, have contributed to her receiving of the award.
"I was surprised. I never expected to win the state teacher of the year award. I knew I was up for nomination due to winning the regional teacher of the year award last year, but as I said, I did not expect to win the state award. With that said, I am also grateful and humbled," noted Kelly. 
Last year, Mr. Spohn nominated Kelly for the LLBAHPERD Teacher of the Year Award for updating the wellness curriculum "from a traditional H & PE program to a 21st Century Wellness Program," said Kelly. These updates include innovative ideas such as Wellness Day. 
"Mr. Spohn's constant support and nomination definitely played a big role in me achieving this award, along with the support of the Superintendent, School Board, Mrs. Heistand, Mr. Reinhart, and Mr. Beissel," said Kelly. 
Wellness Day, one of the primary reasons as to why Kelly is being recognized for the award, is a true passion of Kelly's, as she believes it provides students with a number of opportunities to improve both their fitness and mental health.  
"Wellness Day is an amazing opportunity to expose students to lifetime fitness activities that they may never have the opportunity to participate in.  It's beneficial as it exposes students to new activities and hopefully sparks their interest so they continue to participate in activities like these throughout their lifetime.  These activities show students that fitness can actually be fun and doesn't mean you need to run or lift weights to be fit. It also exposes kids to physical skills, social skills, and can help with mental health and spiritual wellness as some of these activities are peaceful and help you to practice mindfulness." 
Despite the work-load on Kelly's part, she believes that the results are worth the time put into organizing the event. 
"Although it is a ton of work for me, it's totally worth it to see the joy it brings to students, and the appreciation the students have for being able to participate in these activities.  There are so many takeaways for students, even if they don't recognize it at the time." 
"
Being dedicated is just in my nature"
— Donine Kelly
Kelly's dedication to the Wellness program has always been one of her most prominent characteristics, which has ultimately fueled her drive to improve the lives of her students by altering the curriculum. 
"Being dedicated is just in my nature.  I've always strived to be the best I can be and it carries over into my job as a teacher.  Our nation is struggling with many areas of Wellness so it's important to me to give my students my best and to try to set them up to achieve optimal wellness in all areas of their life.  Our job is to give you the tools you need to live a healthy life. We couldn't give you all of those tools with our old curriculum. We've made many changes and are constantly updating lessons to give the students what they need."