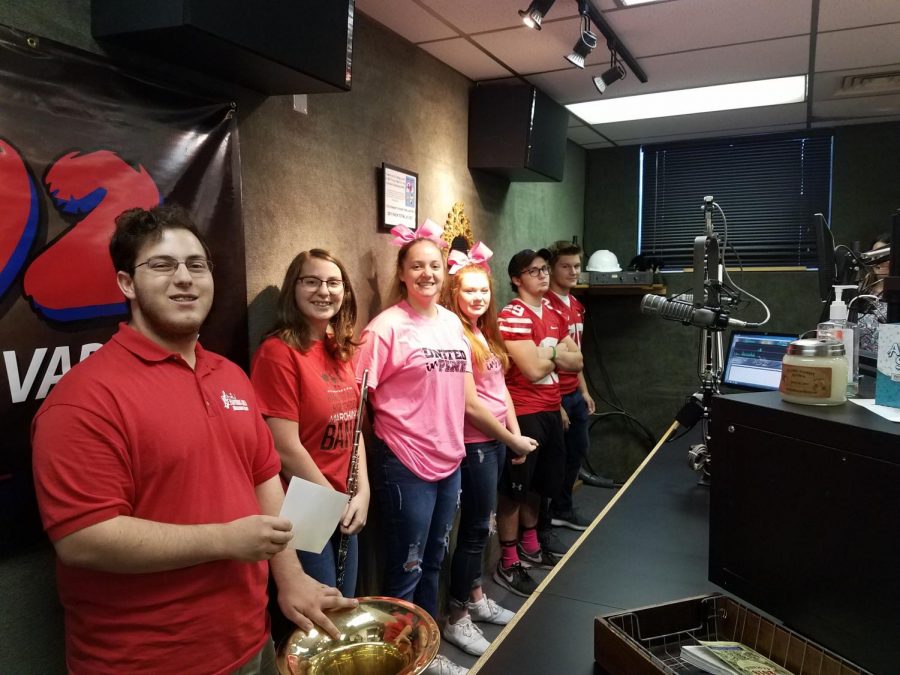 A wave of nerves crashed down on the Hawks prior to the Y102 pep rally. Luckily, the Hawks were able to tame the turbulent sea and regain a newly-found confidence, thus producing a cascade of enthusiasm in the six minutes spent live on the radio.
On the early Friday morning of October 12, the cast of Hawks consisting of two football players (Brendan Hamilton, Benjamin Weidenhammer), two cheerleaders (Alexandra Kline, Mia James), two band members (Harley Ludy, Emma Riegel), piled into the school van and prepared for their debut on Y102.
Hosts, Andi and Kenny, rallied up the Hawks with humor to lighten up the mood and crush the students' nerves. In a moment's time, the Hawks were live on the Y102 Andi and Kenny Morning (radio) Show. The event, sponsored by Moe's, proved to be worthwhile.
Andi, who radiated a positive attitude, opened the show by asking the Hamburg Hawks, "How are you guys doing today?" The Hawks, who were currently in "zombie-mode" due to the early hour, responded with little spirit; however, as predicted, Andi asked the same question again, hoping to conjure a more energetic response. The Hawks most-certainly delivered, and a sense of school-pride emerged in their high spirited reply.
Following introductions, the cheerleaders performed a cheer. Kline and James pumped up the listeners by chanting "A-T-T-A-C-K, ATTACK THEM, BIG RED!"
Hamburg music students, Riegel on flute and Ludy on tuba, played a song titled "Soul Finger." The marriage between the two instruments impressed the hosts, at best. Andi complimented the performance, insisting that she was unaware a "flute and a tuba could do so well together."
Football Captain, Brendan Hamilton, responded to a series of questions in regards to his thoughts on their upcoming game against the Fleetwood Tigers. Kenny, who conducted the interview, interrogated the Hawks' ability to conquer Fleetwood. "How are you going to stomp Fleetwood today?" Hamilton, quite humorously, provided a quick response. "We're just going to run all over them."
To conclude the show, Ludy recited the weather forecast, receiving a booming applause after his announcements, thus ending the anticipated event.
Ludy noted his ever-present excitement in attending the event; however, Ludy, who is a fairly social individual, was at slight unease when volunteering to read the weather. "I was a little nervous to read the weather, because I've never done it before."
Nonetheless, Ludy provided his input on the importance and value of the Hamburg students attending the pep-rally.
"The representation was great for the little town of Hamburg! I felt it was important for us to attend, simply because it gave all three critical aspects of the game representation. The football team got a chance to talk about their tactics, the cheerleaders did a cheer, and the band played."